The handwriting evidence has once more emerged as a topic of discussion by certain commenters on this blog -- and thanks to Zed, we were linked to one of the better known sets of comparisons compiled by Cina Wong: http://www.acandyrose.com/w3.gif
(NB:
Due to copyright considerations I've been warned not to directly reproduce any of Cina Wong's comparisons on this blog -- so I've done the next best thing by posting the appropriate link above.
)
I took another look and decided to respond with some comments of my own regarding this particular document. And now, thinking about it some more, I realize that my observations are relevant enough to warrant a blog post of their own. Here's what I wrote in response to the image linked to by Zed (with some additions and edits):
Here's a clearer image of the first two comparisons, which makes it easier to see the very obvious difference between the two letter "d"s: https://www.google.com/search?q=cina+wong+comparisons+Patsy+ramsey&safe=active&rlz=1C1AVST_enUS355&espv=2&biw=823&bih=448&source=lnms&tbm=isch&sa=X&ved=0ahUKEwi89-uOiOfPAhXFcj4KHXHCAJAQ_AUIBigB#imgrc=Xh94OcPAdeyRCM%3A
When reproduced with less clarity they can look almost identical, yes. But as the more detailed reproduction makes clear, this is an illusion.
The following "S" is from the photo caption, "Rainbow Fish Players."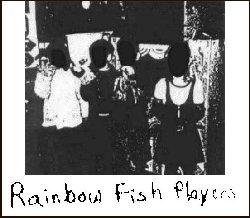 So are two other exemplars from this same page of comparisons, the "o" and the "b". Now if you look carefully at the caption as a whole it looks very different from all the other examples provided by Darnay Hoffman to his "experts." And it shouldn't require an expert to see that "Rainbow Fish Players" was written in a different, more uncertain and irregular, hand from the other captions. Looks rather juvenile I'd say, and was possibly written by Burke or maybe one of his pals. A competent document professional would have caught that, but NONE of Darnay's "experts" did.
The third example on the list is from a badge containing the caption "I'm Marilyn Monroe." It was written in large block letters in a manner totally different from the manner in which the ransom note was written. The similarity is therefore completely fortuitous and means little.
As for the exclamation point and the "g," they look totally generic to me -- something very similar could be found in the writing of literally millions of people.
So no, this is NOT evidence pointing to Patsy, nor is it reasonable to assume that the person or persons who penned these letters wrote the ransom note. All it tells us is that Cina Wong was, and probably still is, a totally incompetent amateur, blithely cherry picking for whatever she could find to "prove" what Darnay wanted her to "prove."